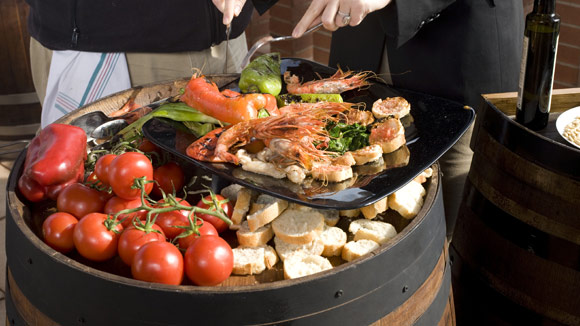 Mixed Grill Catalan Style
You can grill just about anything. We were lucky to have some espardeņas (sea cucumbers) on our hands, so we mixed them with a few gambas (shrimp), peppers, and onions and had a wonderful lunch.

Serves 4
12 large shrimp in the shell
1 pound espardenyas (sea cucumber), cleaned and soaked in cold water for 5 minutes (or substitute 1 pound large sea scallops)
2 red bell peppers, cut into wide strips
2 large onions, cut into 1/2-inch-thick rings
2 to 3 tablespoons olive oil
Buy Here!
Coarse sea salt
Buy Here!
Rub the shrimp, espardenyas, peppers, and onions with olive oil. Grill over a hot fire, turning once, until the seafood is cooked through and the vegetables are tender, about 2 to 3 minutes per side for the seafood and a few more minutes for the vegetables. Transfer to a platter, sprinkle with salt, and serve.