RECIPE OF THE WEEK: MIGAS (FROM EPISODE 1)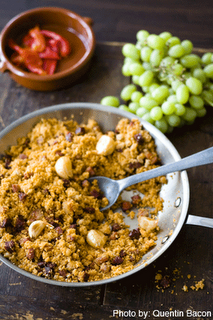 This week, Mark and Claudia made migas, essentially Thanksgiving stuffing Spanish style, with Javier Muñoz. Note that it's very good served with eggs fried in olive oil.
Serves 6 as a side dish or tapa
- 6 cups coarse dried bread crumbs
- 1/3 cup olive oil
- 6 garlic cloves, not peeled
- 1/2 pound Spanish chorizo, casings removed and cut into 1/2-inch dice
- 1/2 pound pancetta in one piece, cut into 1/2-inch dice
- A large bunch of grapes
- 6 Roasted Red Peppers, peeled, seeded, and cut into wide strips
Put the bread crumbs in a bowl, sprinkle with just enough water to moisten, and cover with damp paper towels. Set aside for 2 hours, or until the bread is evenly moistened. Heat the olive oil in a large skillet over medium-high heat. Add the garlic and stir until lightly browned and fragrant, 1 to 2 minutes. Add the chorizo and pancetta and cook, stirring, until the meat is lightly browned and starting to render its fat, about 8 minutes. Add the bread crumbs, mix thoroughly, and cook, stirring, until the crumbs are lightly browned. Serve with the grapes and roasted peppers (peel the garlic cloves if you like, or let your guests do it).

Posted Tuesday, October 17, 2017