RECIPE OF THE WEEK: COCHINILLO ASADO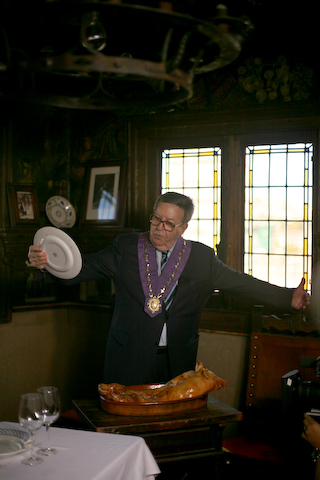 Mark and Claudia ate this at Mesón de Cándido and it's pretty much all you need to know when you're there – maybe a little green salad with raw onion, but otherwise don't even consult the menu. The skin of the suckling pig is so crisp that it can be famously shattered with a dinner plate.
Serves 6, with leftovers
*A handful of fresh bay leaves
*1 suckling pig (about 12 pounds), cleaned
*1/4 pound high–quality lard, melted
*4 garlic cloves, minced
Put the bay leaves in a large roasting pan and lay the pig on top, belly up. Add about a cup of water to the pan. Cook in a 350°F oven for 30 minutes. Turn the pig over. Prick the skin all over with a sharp paring knife, then brush with the lard and rub with the garlic. Cook for another 30 minutes to 1 hour depending on the size of the pig, until the skin is very crispy and the meat is tender and succulent; a thermometer inserted into the shoulder should register 145°F. Let rest for 15–20 minutes. Carve and serve, making sure each diner gets some of the crispy skin.
Posted Tuesday, May 15, 2018