Recipe of the Week: Mushroom and Egg Yolk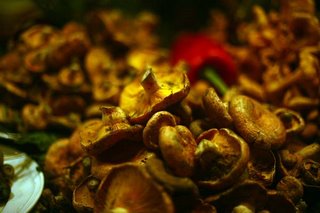 Mark and Claudia ate these in a pintxo bar in San Sebastián with Juan Mari Arzak. This is one of the easiest ways to prepare mushrooms, but it is also decadent and impressive. The Basque Country is known for its mushrooms, and you find this dish in pintxo bars all around the region.
Serves 4
* 1/4 cup plus 1 tablespoon extra–virgin olive oil
* 1 pound porcini or mixed wild mushrooms, cut into 1/8 inch–thick slices
* 1 garlic clove, minced
* 4 large eggs
* 2 tablespoons finely chopped Italian parsley
* Kosher salt and freshly ground black pepper
Heat 1/4 cup of the oil in a large skillet over medium–high heat. Add the mushrooms and sauté for about 5 minutes, or until beginning to soften. Add the garlic and cook for 3 to 5 minutes, or until the mushrooms are nicely browned and softened. Remove from the heat and cover to keep warm.
Fry the eggs sunny–side up in the remaining 1 tablespoon oil in a large nonstick skillet until the whites are set but the yolks are still runny. Transfer to a cutting board and cut away the whites from the yolks (discard the whites). Spoon the mushrooms onto four plates and sprinkle with the parsley, salt, and pepper. Make a little space in the center of each portion of mushrooms, and nestle the yolks in the mushrooms. As you eat, mix the yolk with the hot mushrooms to create a rich, silky sauce.
Posted Tuesday, January 17, 2017