RECIPE OF THE WEEK: MARIO'S AJO BLANCO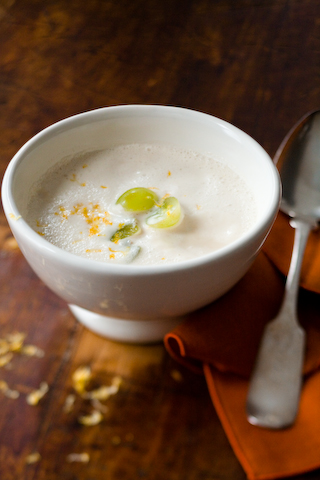 Ajo blanco is a very traditional version of gazpacho, but it isn't as well known as its tomato–based sibling. It's simple and extremely satisfying; a perfectly refreshing cold soup that celebrates almonds, the 'secret ingredient' for the cast's Iron Chef–style cooking competition.
Serves 4
*1 cup blanched whole almonds
*2 garlic cloves, minced
*1/2 cup sherry vinegar
*4 ice cubes
*1 cup extra–virgin olive oil
*Sea salt
*20 seedless green grapes, halved
*Grated zest of 2 lemons
Put the almonds in a small saucepan, cover with cold water, and bring to a boil. Turn off the heat and let stand for 10 minutes, to soften slightly. Drain the almonds, transfer to a blender or food processor, and add the garlic, vinegar, and 4 cups cold water. Blend until smooth, about 1 minute. With the motor running, add the ice cubes, then add the olive oil in a slow, steady stream, blending until thoroughly combined. Season with salt, and refrigerate until chilled.
Divide the grapes and zest between two bowls, pour the soup over, and serve.
Posted Tuesday, July 26, 2016