Press Book
http://www.flickr.com/apps/slideshow/show.swf?v=63961
Posted Tuesday, November 13, 2018
Create
CREATE will be airing the Spain… on the road Again marathon all day Saturday, Jan 10. Learn more – click here!

Posted Tuesday, November 6, 2018
The Martha Stewart Show
Check out Mario and Martha Stewart talking about Spain… on the road Again!
Click Here
Posted Tuesday, October 30, 2018
Almendras
Almendra is the Spanish word for "almond." Most of Spain's almonds go into turrón, a sweet, nougaty candy that's consumed in huge quantities around Christmas. But almonds seem to always be around in Spain. They pop up, sprinkled with salt, at bars with your cocktails; they arrive in small bags on every Spanish flight; they are ground into all sorts of cakes and pastries; and they accompany most cheeses and fruits. They were also our "secret ingredient" for our Iron Chef–style cooking competition.
–GWYNETH
Posted Tuesday, October 23, 2018
Menu del Día
One of Spain's great eating traditions is the Menu del Día – the menu of the day. Most restaurants, even the smallest, most casual, run–of–the–mill places offer one. It's almost always a three–course meal, with an option or two for each course. Typical offerings include fish soup, salads with olives and tuna, baked fish, rice dishes, roast chicken, ice cream and custards. Always affordable and reliable, the menu del día is a pleasant tradition, a good way to eat.
–MARK
Posted Tuesday, October 16, 2018
Besugo
When I took Mark to a market in Madrid, we saw a fish called a 'besugo' and I started laughing. Mark was confused, so I explained that in Spain there's a common expression called a "diálogo de besugos," which is basically a nonsensical discussion where both parties can't seem to understand each other. Apparently it has to do with the fish's big–eyed appearance which seems to almost say: "what are you talking about??"
–CLAUDIA
Posted Tuesday, October 9, 2018
RECIPE OF THE WEEK: MARIO'S AJO BLANCO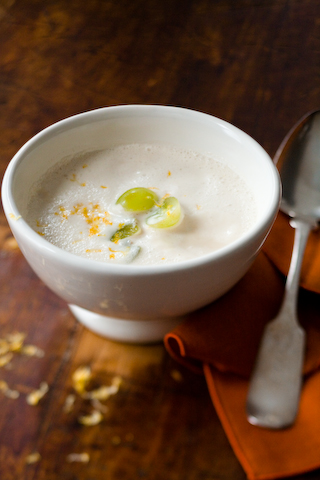 Ajo blanco is a very traditional version of gazpacho, but it isn't as well known as its tomato–based sibling. It's simple and extremely satisfying; a perfectly refreshing cold soup that celebrates almonds, the 'secret ingredient' for the cast's Iron Chef–style cooking competition.
Serves 4
*1 cup blanched whole almonds
*2 garlic cloves, minced
*1/2 cup sherry vinegar
*4 ice cubes
*1 cup extra–virgin olive oil
*Sea salt
*20 seedless green grapes, halved
*Grated zest of 2 lemons
Put the almonds in a small saucepan, cover with cold water, and bring to a boil. Turn off the heat and let stand for 10 minutes, to soften slightly. Drain the almonds, transfer to a blender or food processor, and add the garlic, vinegar, and 4 cups cold water. Blend until smooth, about 1 minute. With the motor running, add the ice cubes, then add the olive oil in a slow, steady stream, blending until thoroughly combined. Season with salt, and refrigerate until chilled.
Divide the grapes and zest between two bowls, pour the soup over, and serve.
Posted Tuesday, October 2, 2018
Something Special About This Week's Episode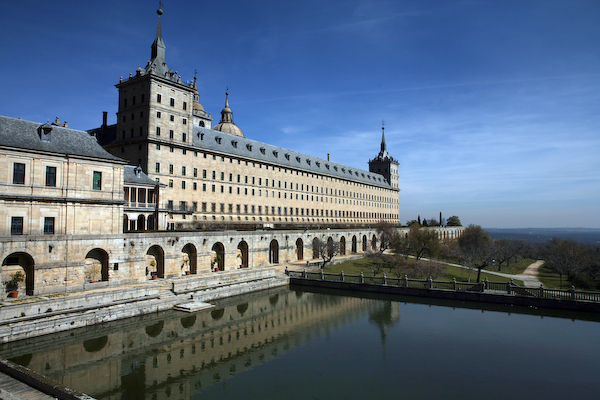 In this week's episode, it's fun to know that the last time Mario visited El Escorial – the monastery outside of Madrid – was on a high school field trip when he was a ex–pat teenager living with his family in the country's capital. On this visit, he remarks that El Escorial is "much prettier than I remembered."
Posted Tuesday, September 25, 2018
Liquid Nitrogen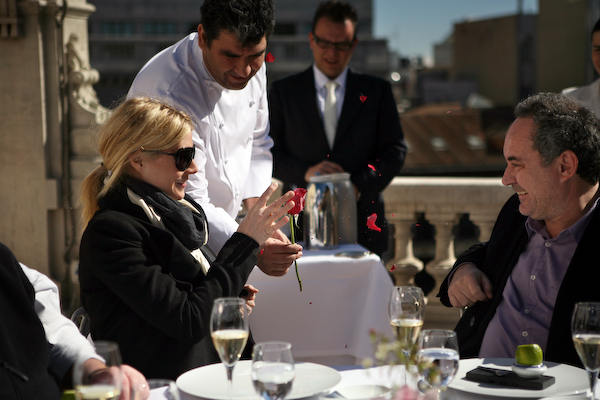 Ferran Adriá often employs liquid nitrogen in his cooking, but he explains that it's "just a tool, like anything else." In a way, it makes sense – like fire or acid, applying liquid nitrogen to food manipulates it, transforming it from one state to another. Liquid nitrogen is pure nitrogen in a liquid state, and it boils at minus 321°F. Pretty cold. It freezes things on contact. To demonstrate liquid nitrogen's abilities when we were eating lunch together, Ferran had Chef Paco dip a rose into it, and when it emerged, Gwyneth gently flicked it with her fingers. We were surrounded by shattered petals.
–MARIO
Posted Tuesday, September 18, 2018
Calatrava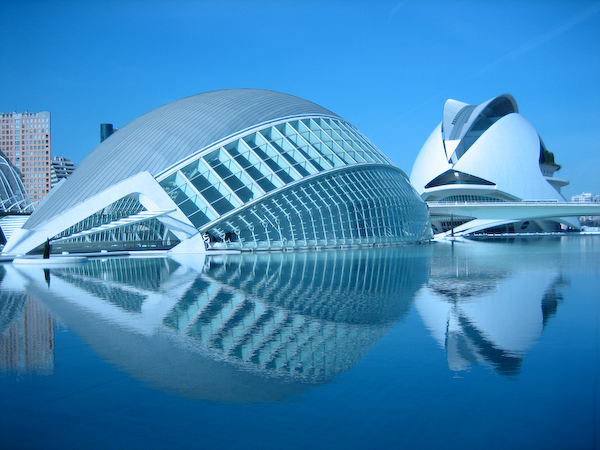 Santiago Calatrava, the world–renowned architect and sculptor, was born in Valencia. No surprise that some of his most famous buildings can be found in his hometown. The southern part of the city is dominated by his Ciudad de las Artes y las Ciencias – The City of Arts and Sciences – which consists of five amazing buildings.
–MARK
Posted Tuesday, September 11, 2018
Recipe of the Week: GRILLED SARDINES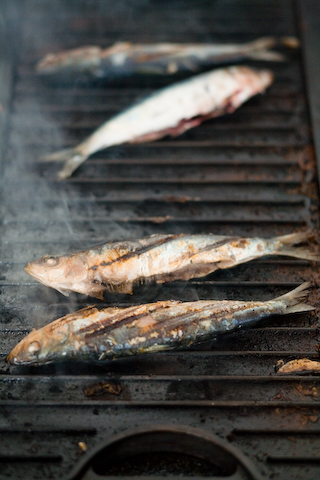 These came in especially handy for Gwyneth when the table was covered with plates of all kinds of pork. It's important to keep everyone happy!
Serves 4
*1 pound sardines, cleaned and scaled
*Extra–virgin olive oil
*Coarse sea salt
*1 lemon, preferably from Valencia, cut into 4 or 8 wedges
Rub the sardines with just enough oil to make them slick, and sprinkle with salt. Put over a hot grill fire and cook until well marked with grill marks, 3 to 4 minutes; when the sardines are ready to be turned, they will release easily from the grill. Using a spatula, carefully turn and cook for 3 more minutes, or until just opaque throughout. Transfer to a platter, sprinkle with salt, and drizzle with a little more olive oil. Serve with the lemon wedges.
Posted Tuesday, September 4, 2018
Paella Burners
Paella pans should be evenly heated if you want to make perfect paella. It's worth investing in a special propane burner to ensure the best paella possible, especially if you're using a pan big enough for a crowd! You can buy them here: http://www.tienda.com/paella/paella_burners.html.
–GWYNETH
Posted Tuesday, August 28, 2018
Something Special About This Week's Episode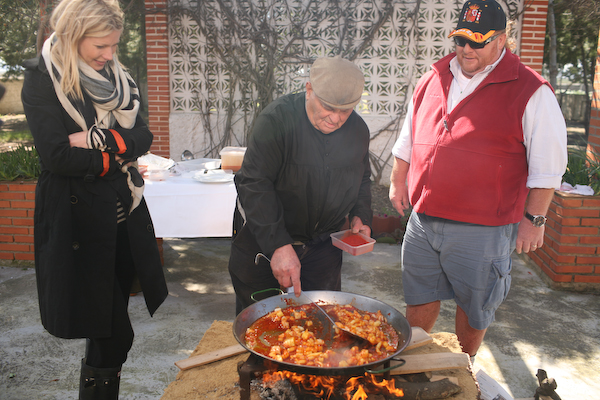 Fun fact in this week's episode: when Gwyneth and Mario learn to make TWBP (The World's Best Paella) in Valencia, Manuelo, their paella teacher, builds the fire out of wood from orange trees. The fragrance was incredible and most definitely penetrated the arroz. At home, you can make paella over a wood fire on even on the grill. Can't hurt to drink a glass of orange juice, just to set the mood…
Posted Tuesday, August 21, 2018
What's a Benjamin?
Mario and I saw 'benjamin' listed on the drinks menu at Ca'n Joan de S'aigo in Mallorca. We found out that a benjamin is a small bottle of cava, a single serving. Apparently in local slang the benjamin of the family is the smallest child, hence the smallest bottle. Great for sipping with breakfast!
–CLAUDIA
Posted Tuesday, August 14, 2018
Golfing…on the road Again…and Again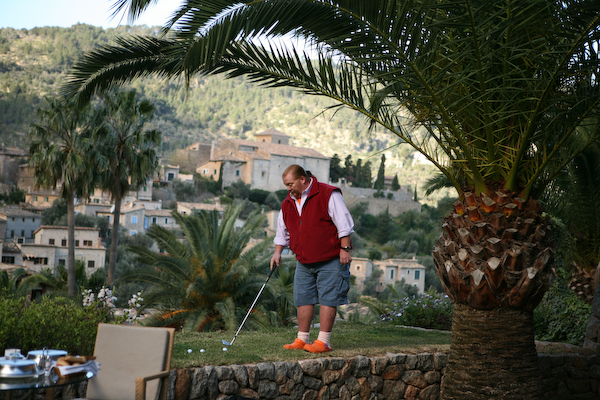 Spain has some of the most beautiful golf courses in Europe. I was sure to bring my clubs with me and was lucky to swing them in Galicia, Castilla y León and Valencia. Unfortunately I never got to play in Mallorca on this trip – but it's got some of my favorite courses. Next time on the road…again.
–MARIO
Posted Tuesday, August 7, 2018