One of the Best Breads in the World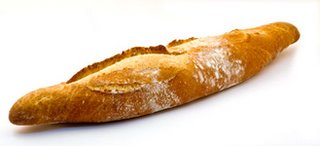 In Galicia, Mark and Mario found the bread from that particular regions very delicious and full of flavor. Give it a try in your own home with olive oil and a speckle of salt!
Buy it here: www.latienda.com
Posted Tuesday, March 5, 2019
Mark Bittman: Spanish Seafood Pancakes

"A COUPLE of years ago, a friend took me to Taberna Toscana, in Madrid. "We don't need a menu," he said. "We' ll get the veal shoulder and the tomato salad, like everyone else." He was both right and wrong; those dishes were amazing, and I ate them the next couple of times I went there.
Then I took the time to explore the menu and found tortillitas. These cute little no–egg pancakes, originally from Andalusia, feature chickpea flour, shrimp or other seafood, onion, herbs and olive oil. Not much else. Yet they are a near–perfect appetizer or small meal, quickly and easily made."
Posted Tuesday, February 26, 2019
Girona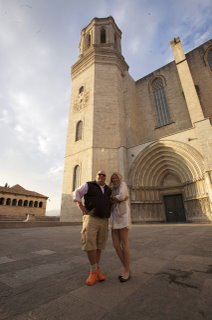 Mario and I took a little side trip to Girona, a small, historic city north of Barcelona. Walking through its old Jewish Quarter was one of the most memorable parts of the trip for me.
—GWYNETH
Posted Tuesday, February 19, 2019
Quimet y Quimet
Unfortunately we didn't get to visit one of my favorite Barcelona spots on this road trip, but it's worth visiting should you be in town. It's called Quimet y Quimet and it's roughly the size of a large walk–in closet. They prepare small bites, mostly interesting combinations of preserved and pickled food. It's quirky, a little funny, and totally eccentric.
–MARK
Posted Tuesday, February 12, 2019
Mallorcan Salts
Some of the world's best salt – huge crystals with a clean, round flavor – is harvested on Mallorca's coasts. There's a fun trend of grinding different flavors with the salts – hibiscus and black olives, for example. Mario and Claudia tried them at Felipe Jordi's apartment in Mallorca with Chef Benet Vicens. The mixtures lend wonderful flavor to meats and fish, pastas and salads.
–GWYNETH
Buy Here! www.latienda.com
Posted Tuesday, February 5, 2019
Vichy Catalan Water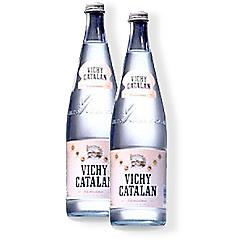 Vichy Catalan is mineral water from Catalunya that some people adore, some not so much. It' s got a bit of salinity to it, and a full, mineral—y flavor. The best way to drink it is probably with a slice of lemon and a splash of vodka.
— Mario
Buy Here! www.latienda.com
Posted Tuesday, January 29, 2019
RECIPE OF THE WEEK: PAN CON TOMATE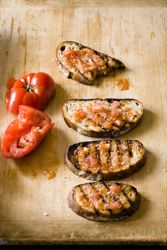 Mario and Gwyneth prepared pan con tomate (bread with tomato), perhaps the most emblematic of all Catalan food, at the Rene Barbier vineyard. It is served everywhere with everything and is more a method than a recipe. Gwyneth especially loves it when it's topped with a few boquerones (anchovies).
A few slices of Catalan or peasant bread
A garlic clove, halved, Buy Here! www.latienda.com
Extra-virgin olive oil, Buy Here! www.latienda.com
A really ripe tomato, cut in half
Coarse sea salt, Buy Here! www.latienda.com
Grill the bread or toast it under the broiler until browned on both sides. Rub with the garlic and drizzle with as much olive oil as you like. Rub and smash the tomato against the bread so that the pulp saturates the toast. Sprinkle with salt, and enjoy.
Posted Tuesday, January 22, 2019
RECIPE OF THE WEEK: GRILLED VEGETABLES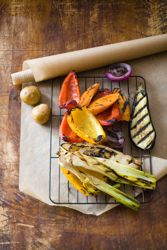 While in wine country, Gwyneth and Mark met up with a local chef named Nino. He arranged for a wonderful lunch consisting of vegetables fresh from the lush Basque landscape. He put a metal grate on the ground, piled grape vines on top, and set them on fire. When the vines burned down, he threw some salt on the fire "to give it a little life," then grilled endive, carrots, leeks, eggplant, onions, and peppers. He served the grilled vegetables with boiled potatoes and borage, all doused with coarse salt and olive oil. And that' s the recipe, folks. Fire, vegetables, good salt and olive oil.
Recommended Olive Oil www.latienda.com
Recommended Salt www.latienda.com
Posted Tuesday, January 15, 2019
Navajas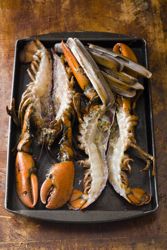 Navaja is the Spanish word for both a fighting knife and a razor clam. I'm more interested in the clams, which look like knives— about five inches long and very thin. Cook them as you would any other clam. They're especially great prepared on a hot plancha!
— MARK
Posted Tuesday, January 8, 2019
Unto
Unto is a cured pork belly product, sort of like the Spanish version of pancetta. We couldn't seem to find it anywhere outside of Galicia. There it's used as the base for caldo gallego and is why, I think, caldo gallego tastes better in Galicia than anywhere else in the world you might be served it.
— MARIO
Posted Tuesday, January 1, 2019
Meet Mario!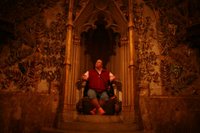 Mario will be at NYC's Apple Store in Soho on February 26, at 7pm. Stop by if you are in the area!
For more information:
Click Here
Posted Tuesday, December 25, 2018
Mario and Gwyneth Cook with Oprah!

In case you missed it last fall, Mario and Gwyneth's episode with Oprah will replay on Thursday, February 12th! In addition to an interview, Mario and Gwyneth cook some of the recipes featured on the show and in Spain…A Culinary Road Trip.
For more information:
http://www.oprah.com
Posted Tuesday, December 18, 2018
Azafrán

Azafrán, or saffron, is one of the world's most valuable spices. It's distinctive floral smell and burnt orange color can't be confused for anything else. It's vital in many Spanish recipes, including paella. Fun fact: saffron is actually the stigma of bright lavender crocus flowers. Available at www.latienda.com
—CLAUDIA
Posted Tuesday, December 11, 2018