Episode 103: Coasting Along in Galicia
Posted Tuesday, June 20, 2017
Episode 102: Pilgrimage to Galicia!
Mark's moods swings and insatiable appetite have the road trippers stopping often as they head north to Galicia. While in Ribera del Duero wine country, Mario grills milk-fed lamb in a vineyard. While staying at a traditional county inn, Mario's competitive edge emerges and he and Gwyneth race Mark and Claudia on the Camino de Santiago, a historic pilgrimage route. Back at the inn, Mario and Gwyneth cook dinner while waiting for Mark and Claudia to get back.
http://www.youtube.com/watch?v=XfD4XtnXrDA
Posted Tuesday, June 13, 2017
RECIPE OF THE WEEK: GRILLED SARDINES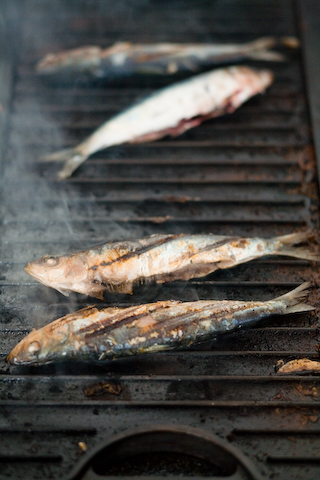 These came in especially handy for Gwyneth when the table was covered with plates of all kinds of pork. It's important to keep everyone happy!
Serves 4
*1 pound sardines, cleaned and scaled
*Extra–virgin olive oil
*Coarse sea salt
*1 lemon, preferably from Valencia, cut into 4 or 8 wedges
Rub the sardines with just enough oil to make them slick, and sprinkle with salt. Put over a hot grill fire and cook until well marked with grill marks, 3 to 4 minutes; when the sardines are ready to be turned, they will release easily from the grill. Using a spatula, carefully turn and cook for 3 more minutes, or until just opaque throughout. Transfer to a platter, sprinkle with salt, and drizzle with a little more olive oil. Serve with the lemon wedges.
Posted Tuesday, June 6, 2017
RECIPE OF THE WEEK: GWYNETH'S CLAMS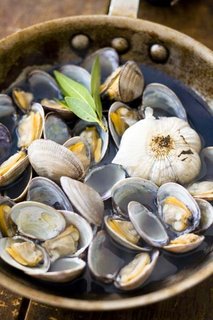 When the cast of Spain on the road Again ate at Casa Pintos after meeting the mariscadoras in Cambados, Gwyneth was inspired by the chef's use of laurel, bay leaves, in the steamed clams. When they got to the Vintona Winery, she volunteered to make everyone her special clams, with enough garlic to clear your sinuses. The healthy slug of Albariño is key.
Serves 4
* 2 pounds berberechos or other clams, scrubbed
* 1 head garlic, cut in half across the bulb
* 2 or 3 fresh bay leaves
* 1/2 bottle Albariño (or other good Spanish dry white wine)
* 2 tablespoons extra-virgin olive oil
Put everything in a deep skillet, cover tightly, and steam over medium-high heat until the clams open (yes, it's really that easy).
Posted Tuesday, May 30, 2017
Besugo
When I took Mark to a market in Madrid, we saw a fish called a 'besugo' and I started laughing. Mark was confused, so I explained that in Spain there's a common expression called a "diálogo de besugos," which is basically a nonsensical discussion where both parties can't seem to understand each other. Apparently it has to do with the fish's big–eyed appearance which seems to almost say: "what are you talking about??"
–CLAUDIA
Posted Tuesday, May 23, 2017
Navajas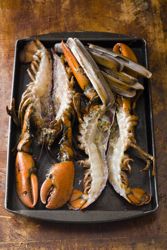 Navaja is the Spanish word for both a fighting knife and a razor clam. I'm more interested in the clams, which look like knives— about five inches long and very thin. Cook them as you would any other clam. They're especially great prepared on a hot plancha!
— MARK
Posted Tuesday, May 16, 2017
RECIPE OF THE WEEK: MIGAS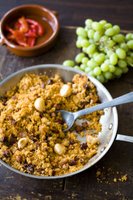 This week, Mark and Claudia made migas, essentially Thanksgiving stuffing Spanish style, with Javier Muñoz. Note that it' s very good served with eggs fried in olive oil.
Serves 6 as a side dish or tapa
6 cups coarse dried bread crumbs
½ cup olive oil www.latienda.com
6 garlic cloves, not peeled
½ pound Spanish chorizo, casings removed and cut into ½ inch dice www.latienda.com
½ pound pancetta in one piece, cut into ½ inch dice
A large bunch of grapes
6 Roasted Red Peppers, peeled, seeded, and cut into wide strips
Put the bread crumbs in a bowl, sprinkle with just enough water to moisten, and cover with damp paper towels. Set aside for 2 hours, or until the bread is evenly moistened. Heat the olive oil in a large skillet over medium–high heat. Add the garlic and stir until lightly browned and fragrant, 1 to 2 minutes. Add the chorizo and pancetta and cook, stirring, until the meat is lightly browned and starting to render its fat, about 8 minutes. Add the bread crumbs, mix thoroughly, and cook, stirring, until the crumbs are lightly browned. Serve with the grapes and roasted peppers (peel the garlic cloves if you like, or let your guests do it).
Posted Tuesday, May 9, 2017
Pimientos de Padron
Pimientos de Padron are amazingly tasty, tiny peppers from a medieval town in Galicia, northwest Spain. These peppers are a great addition to any Spanish meal and are at the peak of their season right now! For the freshest Pimientos de Padron, be sure to order now.
Buy Here! www.latienda.com
Posted Tuesday, May 2, 2017
Blog: Claudia on Azafrán

Azafrán, or saffron, is one of the world's most valuable spices. It's distinctive floral smell and burnt orange color can't be confused for anything else. It's vital in many Spanish recipes, including paella. Fun fact: saffron is actually the stigma of bright lavender crocus flowers. Available at www.latienda.com
—CLAUDIA
Posted Tuesday, April 25, 2017
Calatrava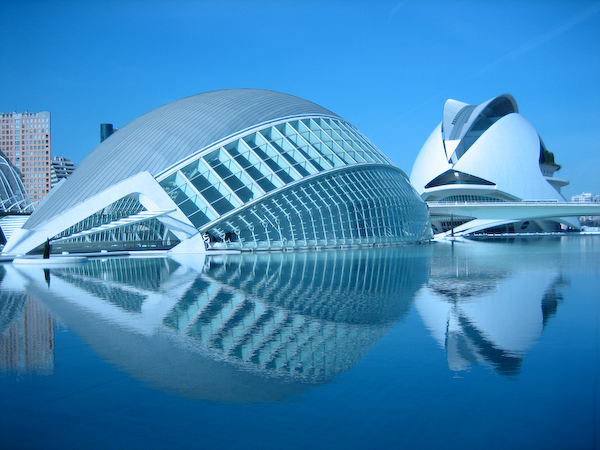 Santiago Calatrava, the world–renowned architect and sculptor, was born in Valencia. No surprise that some of his most famous buildings can be found in his hometown. The southern part of the city is dominated by his Ciudad de las Artes y las Ciencias – The City of Arts and Sciences – which consists of five amazing buildings.
–MARK
Posted Tuesday, April 18, 2017
Almendras
Almendra is the Spanish word for "almond." Most of Spain's almonds go into turrón, a sweet, nougaty candy that's consumed in huge quantities around Christmas. But almonds seem to always be around in Spain. They pop up, sprinkled with salt, at bars with your cocktails; they arrive in small bags on every Spanish flight; they are ground into all sorts of cakes and pastries; and they accompany most cheeses and fruits. They were also our "secret ingredient" for our Iron Chef–style cooking competition.
–GWYNETH
Posted Tuesday, April 11, 2017
Recipe of the Week: Mallorcan Coast Grill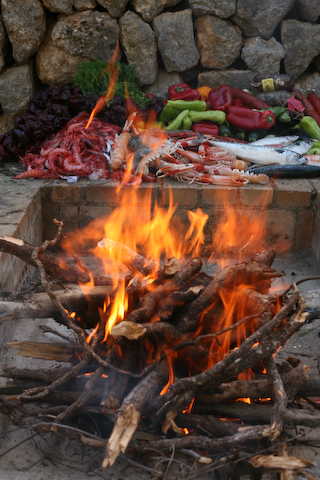 Mario and Gwyneth grilled seafood with a local chef at a stunning coastal spot. Simple and unbeatable, this recipe is a lesson in great ingredients. Perfect for summer!
Serves 4
*1 large Mallorcan lobster (or Caribbean or Maine lobster)
*A few whole mackerel, cleaned and scaled
*1 rouget, cleaned and scaled
*12 large head–on shrimp in the shell
*Extra–virgin olive oil
*Mallorcan or Maldon sea salt
To kill the lobster, hold it firmly on a cutting board with its head toward you, plunge a sharp heavy knife into the center of the head, and quickly bring the knife down to the board, splitting the front of the lobster in half; turn it around and cut it completely in half. Rub the lobster, fish, and shrimp with olive oil and season with salt (including the cavities of the fish). Put over a hot grill fire (start the lobster shell side down) and cook the shrimp for about 2 minutes, the lobster and rouget for 4 to 5 minutes, or until the flesh is starting to become opaque; don't give in to the temptation to flip too soon. Use a spatula to gently turn the shrimp, and then the lobster and fish, and cook for a few more minutes more, until just cooked through. Transfer to a platter, sprinkle with salt and olive oil, and dig in.
Posted Tuesday, April 4, 2017
Queimada!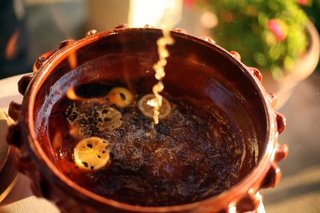 In this week's episode, be on the lookout for the orujo that goes into the Galician 'punch' called queimada. Orujo, sometimes called aguardiente, is a spirit native to Galicia with a very high alcohol level. It's a bit like Italian grappa or Peruvian pisco—it's made from the leftovers of the wine-making process, the grape skins and seeds, as well as bits of branches. Strong stuff.
Posted Tuesday, March 28, 2017
Gwyneth Cooking at Home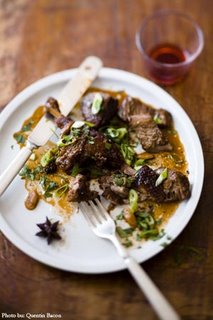 One of the best parts about a road trip is taking what you've learned and bringing it home. For example, in Galicia at the casa rural, Maria made an incredible stewed capon dish. Mario and I spoke about using the same technique – browning the bird and then braising it with flavorful liquid with different ingredients. And that's how my Chinese duck recipe was born! Get a very good organic duck. Cut it into 14 pieces (see Capon Grandma–Style). Prick the skin all over with a sharp paring knife. Rub with some softened butter that's been mixed with 3 or 4 minced garlic cloves. Sprinkle with ground cloves and black pepper. Brown the duck well in olive oil in a large heavy pot. Pour off all but a few tablespoons of the fat and add a cup each of Madeira and sake, some mirin, a sprinkle of sugar, lots of grated fresh ginger, a few crushed garlic cloves, and 2 star anise. Bring to a boil, then lower the heat to a gentle simmer, cover, and cook for 3 1/2 hours, or until the duck is very tender. During the last 10 minutes, add soy sauce to taste. Serve garnished with tons of chopped cilantro and sliced scallions. –GWYNETH
Posted Tuesday, March 21, 2017
Liguid Nitrogen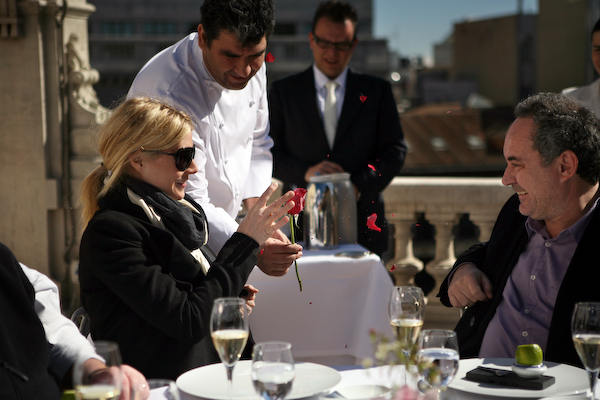 Ferran Adriá often employs liquid nitrogen in his cooking, but he explains that it's "just a tool, like anything else." In a way, it makes sense – like fire or acid, applying liquid nitrogen to food manipulates it, transforming it from one state to another. Liquid nitrogen is pure nitrogen in a liquid state, and it boils at minus 321°F. Pretty cold. It freezes things on contact. To demonstrate liquid nitrogen's abilities when we were eating lunch together, Ferran had Chef Paco dip a rose into it, and when it emerged, Gwyneth gently flicked it with her fingers. We were surrounded by shattered petals.
–MARIO
Posted Tuesday, March 14, 2017