RECIPE OF THE WEEK: PAN CON TOMATE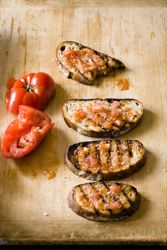 Mario and Gwyneth prepared pan con tomate (bread with tomato), perhaps the most emblematic of all Catalan food, at the Rene Barbier vineyard. It is served everywhere with everything and is more a method than a recipe. Gwyneth especially loves it when it's topped with a few boquerones (anchovies).
A few slices of Catalan or peasant bread
A garlic clove, halved, Buy Here! www.latienda.com
Extra-virgin olive oil, Buy Here! www.latienda.com
A really ripe tomato, cut in half
Coarse sea salt, Buy Here! www.latienda.com
Grill the bread or toast it under the broiler until browned on both sides. Rub with the garlic and drizzle with as much olive oil as you like. Rub and smash the tomato against the bread so that the pulp saturates the toast. Sprinkle with salt, and enjoy.
Posted Tuesday, January 22, 2019