Recipe of the Week: Mallorcan Coast Grill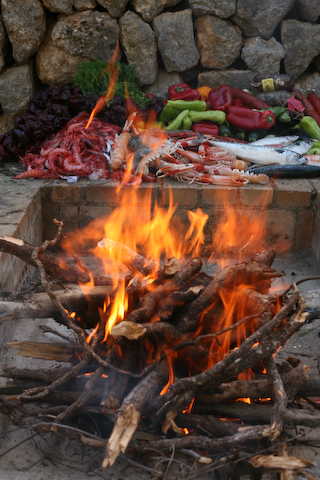 Mario and Gwyneth grilled seafood with a local chef at a stunning coastal spot. Simple and unbeatable, this recipe is a lesson in great ingredients. Perfect for summer!
Serves 4
*1 large Mallorcan lobster (or Caribbean or Maine lobster)
*A few whole mackerel, cleaned and scaled
*1 rouget, cleaned and scaled
*12 large head–on shrimp in the shell
*Extra–virgin olive oil
*Mallorcan or Maldon sea salt
To kill the lobster, hold it firmly on a cutting board with its head toward you, plunge a sharp heavy knife into the center of the head, and quickly bring the knife down to the board, splitting the front of the lobster in half; turn it around and cut it completely in half. Rub the lobster, fish, and shrimp with olive oil and season with salt (including the cavities of the fish). Put over a hot grill fire (start the lobster shell side down) and cook the shrimp for about 2 minutes, the lobster and rouget for 4 to 5 minutes, or until the flesh is starting to become opaque; don't give in to the temptation to flip too soon. Use a spatula to gently turn the shrimp, and then the lobster and fish, and cook for a few more minutes more, until just cooked through. Transfer to a platter, sprinkle with salt and olive oil, and dig in.
Posted Tuesday, June 11, 2019